For some of you, this may seem like an easy question to answer, but for me, it's difficult. You see, the pace I
can
read at, is generally not the pace that I
do
read at. Let me explain.
I started thinking about this when I took an online test to tell me what my average reading speed is. My score was 766 words per minute - which is apparently 206% faster than the national* average, placing me just under "high-scoring college students". I've actually done the test a few times - because, hey, why not? - and got around the same score each time. The problem is, that when I'm feeling the pressure of the timer, I read the faster that I could, whilst still taking in the content (there's a few questions at the end of the reading to test your comprehension).
I've embedded the test below (hopefully it works!)** so if you want to try, go ahead! It also lets you know how long it would take you to read some popular books. Oh, and let me know what your score was.
*I'm assuming this company is American, so that national average, not the Australian.
** Turns out it's just an image linking to the website!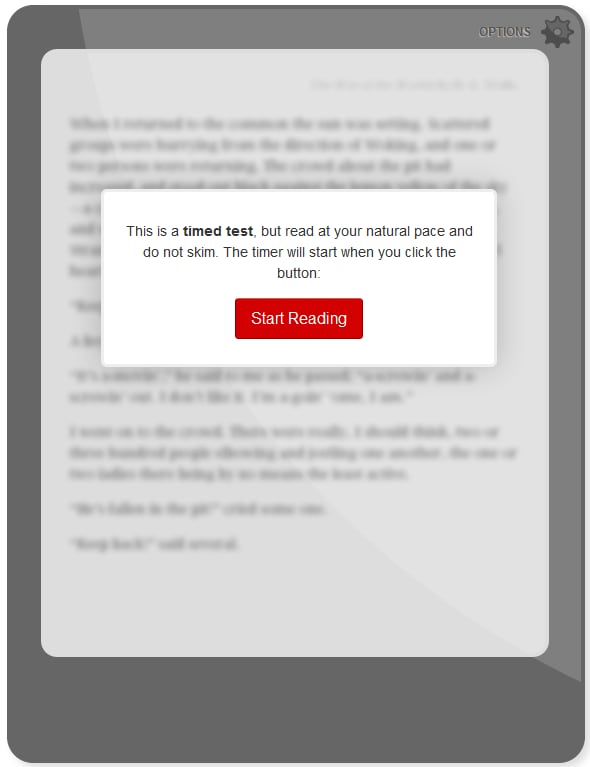 Source:
Staples eReader Department
Do I actually read books at this speed? No!
I generally read books a bit faster than "talking pace" - the speed at which I would read the words aloud. This way, I get the most possible enjoyment out of being immersed in the world of the book. I took the above test again, this time forcing myself to read at the pace I normally would and my new score was 406 words a minute - still 62% faster than the average, but no way near how I was reading initially.
There are exceptions to this, of course. If I'm really disliking a book and I just want it to be over, but I still want to know what happens, I will read at the first pace. Same goes if I'm reading a textbook for school and I actually understand what it's saying.
Another thing. For me, reading fast can be exhausting. I know it sounds silly - there's no physical exercise involved! - but after reading like that, I feel drained and like I need a break.
Of course, this has an impact on how many books I read. I'd say on average I read 1-2 books a week. Sometimes I get frustrated that I can't sustain the fast reading pace because I think of how many more books I could read if I could keep that up! But mostly I'm just happy with how I'm doing it now.
So, how fast do you read?